I normally don't post things like this here on the blog, but this was too good a story to pass up. Here's what great customer service looks like.
Over a year ago, I was upgrading my luggage and travel kit, knowing that I was going to be doing a lot of it 2015-2016. I have a soft spot for really good bags, and one of the companies that I had been watching and reading reviews of was Tom Bihn. Years and years ago I had bought one of their Ristretto bags that I used for traveling with my iPad, and it had become one of my favorite things to carry. But I'd resisted buying more from them…I had gotten the Ristretto during a big sale, and the regular prices were a bit much for me to swallow.
But now that I was going to be traveling professionally, I wanted something that was going to be the perfect 3-5 day carry on. I went back to looking at Tom Bihn and decided to pull the trigger on a few accessories that would make packing easier. I bought a few of their Stuff Sacks to make wrangling cables and such easier, and decided to go with one of the Spiff Kits as a toiletry bag.
Bear with me. We're getting to the customer service bit.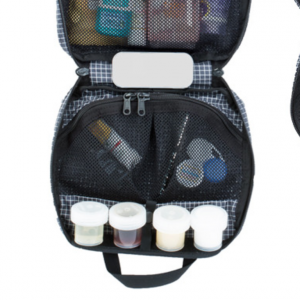 The one I bought has this little shelf at the bottom when you unfold it that is covered in the loop side of velcro, and small screw-top bottles that fit on the shelf came with hook-sided stickers that you affixed to the bottom of them. They stuck to the shelf and were thus able to be used for hair gel or medicine or whatever you needed. Clever and useful.
Except that…the stickers didn't really stick. They didn't adhere to the bottles very well, so over the course of using the Kit  I found that the bottles, one by one, lost their velcro. And while I kept using the Kit for all my travel, I found other solutions to using the bottles, and they went in a drawer at home.
Here's the customer service bit.
Last week, I got an email from Tom Bihn telling me that they had gotten some customer service feedback that the velcro didn't really work they way they wanted. And they had found a better solution, new stickers that really did work and that they had tested, and since I had ordered a Spiff Kit from them literally over a year ago, they were going to just send me the fix, free of charge and without me asking for it. The email thanked me for my business with them, and had a tracking number for me to use.
And then, sure enough, a few days later an envelope showed up, and it had not only the velcro button stickers for the bottles, but one of their Mini Organizer Pouches as a "sorry we messed up" present.
To review: I bought a thing I was perfectly happy with, and worked well. It didn't work exactly like the manufacturer wanted, but the issue with it wasn't one that bothered me. They were unhappy enough with the fact that it didn't do what they wanted that they sent me a fix, without me even having to ask for it, as well as a token of their appreciation for being a customer.
That is amazing customer service. Making things right, not because they were asked or because they had to, but because they wanted their product to do what they expected of it.
Consider this a hearty endorsement of Tom Bihn. If you're looking for a laptop bag, new luggage, or just a way to keep your knitting organized, they have you covered.